Apologies to those who have already seen these photos a million times over, but I have decided to compile one single thread of the story of my X19 restoration. Currently I have threads on about 3 different websites that contain bits and bobs, so I have decided to compile all of the information here and then link to this site for anyone else who wants to see. As Xweb V2 now enables a single running thread, what better place to be based!
Ive had heaps of ideas of what to do with the car (turbo, supercharged, tarmac rally etc) but in the end Ive settled on a nice period modified resto. The car might see a bit of light duty on the track, in hillclimbs and as a course car for tarmac rally, but it will mostly be used for late night summer runs with the roof off. I was thinking of going more 'race' with this car, but Dad and I realised it would just be a crap race car and a crap road car so why try make it something it isnt? (there might be something a little more serious in the pipeline anyway).
Heres some pics before I started. My X (which was my first car that I bought just after turning 16) didnt have much rust, but the paint job was an absoloute shocker. It was done in a rush by the previous owner without proper surface preparation and it showed. The car looked great from 10m, but any closer and it was a bit dodge. Something had to be done!
Something I'm realising now is that commiting to a full restoration is a very big commitment. Im currently a University student (so dont work full time) which means that due to the resto I'm constantly broke. Whatever spare time I have is spent on the car, and when it isnt I feel guilty that Im not working on the car.
So before I considered this fully, I decided to do a complete nut and bolt ground up resto. I carefully considered the pro's and con's for umm, maybe half an hour or so and then jumped right in. I got up early one morning, took the X for a last spin through the hills (sun shining, roof off) and then pulled into the gargae. I gave a last blip of the throttle then shut her off. I jumped out of the car, grabed some tools and immediatly started ripping my baby apart.
I was supprised at how easily and quickly it all came apart. I'm now realising I shoudlve taken many many more photos, but ah well head scratching is kinda fun I guess (now I know ive seen this part go somewhere before...)
The body was riddled with little flaws like this one. On a trip through the Great Ocean Road I hit a cat at 90kmh, and it dislodged a piece of bog from the front spoilier.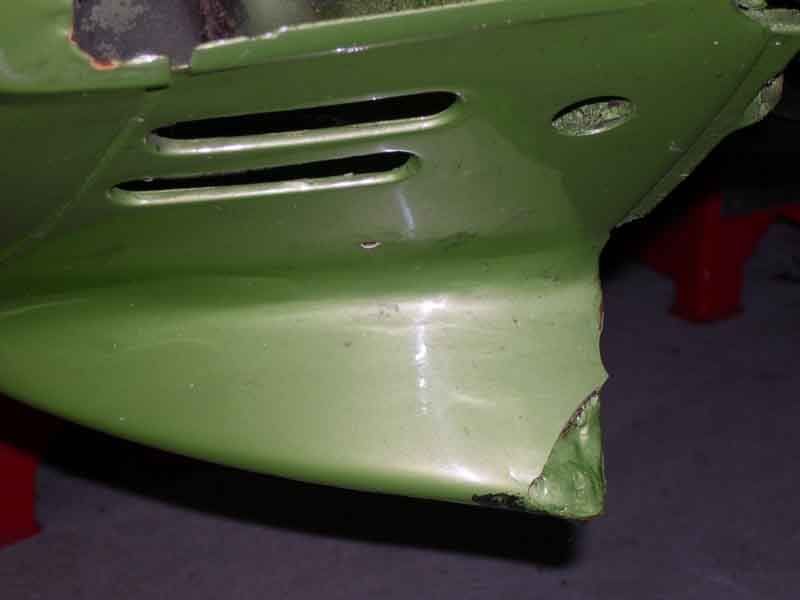 With the engine out, I decided to rip into pulling it apart. I was on my own, I dont have that much mechanical experiance but this didnt concern me. I wrongly assumed that there are millions of people (some of them quite dumb) who can rebuild an engine, so why the hell cant I!. I ripped into stripping it right down - this was probably my biggest mistake. But ah well, ce la vie or however it goes
In their infinite wisdom, my parents decided to purchase a new house. This would mean we would be moving house, which is not the best thing to do in the middle of a resto. But it is free accomodation and free use of the shed (and we were getting a bigger shed with a pit too) so I went along with their plans.
The real estate agent thought an old X19 body shell would somewhat reduce the value of the house, so it had to go before open inspections started. As we hadnt taken the title to the new house yet, the only place for it was the body shop. After much begging (and luckily the guy who's car was next to be done having a heart attack and dying - not a good thing but it worked for us) I managed to get the car in right away. Eddie reckoned it would take 6 months or so to do it on the side.
We hired a trailer, and hitched it up.
This is how she looked when we dropped her off.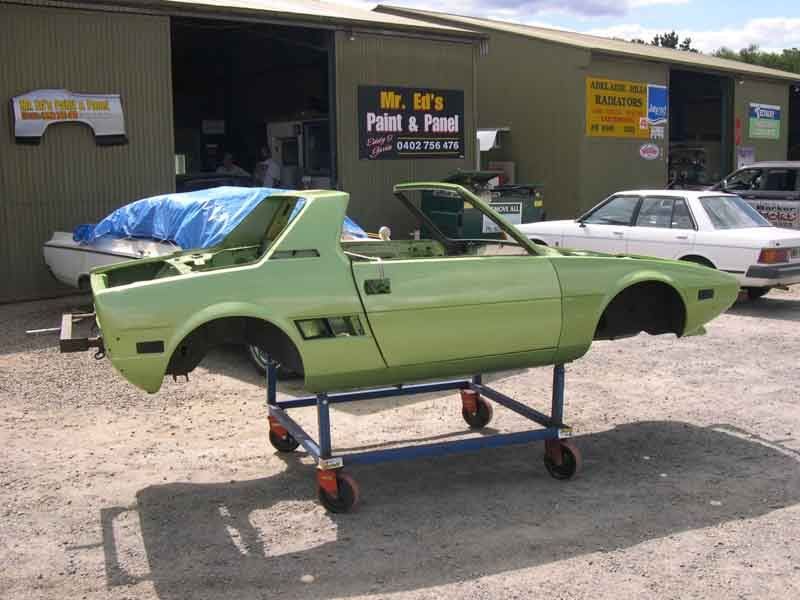 I found these cool Bertone stampings inside the interior under the carpet, luckily they are being saved.