If you are leaving the fuel tank where it is, then do me a favor, Put a piece of kevlar or something between the transmission and the tank. I remember seeing a post from Steve H on this as well. Just some extra prevention in case something goes wrong and you have clutch and metal pieces flying around behind you.

I am really excited to see how this turns out!
a scatter shield was always one of the pieces of safety equipment being fitted... standing up in the background is the sump guard from my 128 rally car from many years ago... I knew the time would come to recycle it (or pieces of it) onto another race car one day.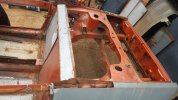 SteveC