I pulled the hub & pillar: - removed caliper & rotor, removed tie rod end, popped C/arm balljoint, removed axle nut, disconnected strut, wiggled pillar off balljoint. Not sure why the manual says to remove the six bolts for the "stub shaft", that was unnecessary.
I bought the lock ring, tool and bearing from Bayless, I believe the listing was all for 5spd, I'll have to check now..
EDIT, yup, meant for my '87
82374669 Wheel Bearing (Fiat Bertone X19 5-Spd Rear / Lancia Front and Rear) -
57149-OE Wheel Bearing Retainer Ring Tool - Rear (Fiat Bertone X19 5-Spd 1979-88, Scorpion)
82280343 Wheel Bearing Retainer Ring - Rear (Fiat Bertone X19 5-Spd, Lancia) -
The diagram seems to be incorrect in terms of the "thrust washer" removal mentioned in the removal photos, it's positioned between 3 & 4 in reality. It appears to be nothing more than a seat ring for the inner most rubber seal that sits on the axle. I'm unclear as to why I would want to remove that, since it will definitely be damaged in so doing.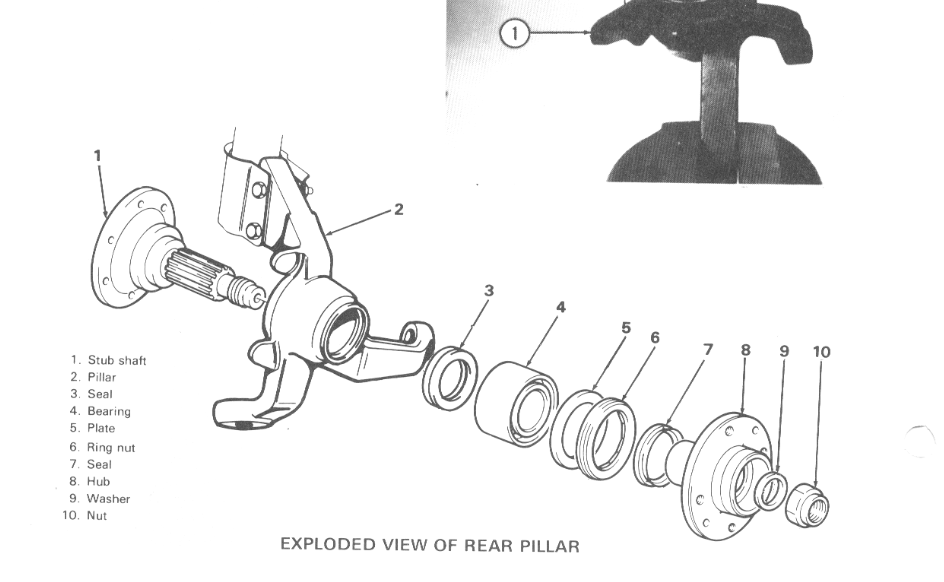 I'm assuming from the crappy manual photos that the bearing is removed from the outside, with an inner seat that the lock ring pushes the bearing against?
Last edited: