This is the story of my little black X. My first X, a highly modified raceX, came into my life because I wanted a smaller racecar than my '69 Camaro CP car. I had no particular interest in Fiats, but couldn't afford a Formula Ford so the X looked like the next best thing.
Then, a funny thing happened...I was loving running the X alot, but missing the joy of having a street legal X. So a long search was begun for the right car. Since I had a racecar to support, it took a long time to find a nice, but inexpensive, example. Finally found it in the form of a 69K mile metallic black '79. This car had been seized from its original owner by the local Fiat/Bertone dealership in 1984. It was then acquired by a Fiat repair facility when the dealership closed and sold the parts inventory. It then joined a long list of other project cars owned by the owner of the repair facility, and there it sat for 15 years. The repair facility closed, the owner retired and realized that he had too many projects. At this point, I acquired the car just as it was when the original owner lost possession.

StreetX sitting in grid at Portland International Raceway trackday
It was like looking into a time capsule. Various items in the car showed the original owner to be a hard partying young woman. The car was littered with broken wine glasses, evidence of many alcohol spills, cigarette burns and butts, a beer can opener, a motel key stuck in the dash, sunflower seeds, matchbooks from long closed local nightspots, makeup and hair ribbons, and a couple photos of attractive young blonde women. But all that was to be erased as the interior was removed, thoroughly cleaned and the brown dash and carpet dyed black. Can't understand why a black car with ivory upholstery would have brown dash and carpet. All of the hydraulics functioned well after a through flush and bleed. The cooling system had alot of gunk in it, a seized heater valve, and large blockages in the coolant passages at the block-to-head juncture. There was evidence the head had been off the block before. The head gasket and compression were fine, but I wanted to mill the head for a compression boost. It was lucky I decided to do the milling, since there was no other obvious reason to remove the head, and I would have had cooling problems with the amount of blockage that was there. The oil pan had an inch of gelatinous oil in the bottom, though the rest of the crankcase and oil passages in the head were very clean. Just to be sure, I rigged a pressurized oil tank and flushed clean oil through the oil galleries via the oil pressure sending unit. I then started the car, went to hop in for a test drive and discovered there was no way I could fit! I'd never even sat in the car.

Stock interior, except cloth seats
The first cars with inertia belts had the belt retracters located in a way that kept the seat from moving all the way back to the rear interior bulkhead. So I disassembled the seat, modified the lower frame and tracks, and removed 1" from the lower cushion height. Still not enough room, so raised the steering wheel as well. Since the seat frames were poorly painted from the factory, I sandblasted both sections and painted them with DP90 epoxy primer. Naturally had to do the same on the unmodified passenger seat. Now we're finally ready for that test drive. Starts, runs, clutch and brakes work, but discovered no synchos on first or second gear. When I bought the car, it was a package deal of 4 cars (3 junkers) and a number of spare parts, including a transmission...condition unknown. Figured the best way to evaluate it was to stick it in. Lucked out as it is a very smooth tranny, now full of Redline MTL. Discovered it had a new clutch already installed.
All electrical connections were removed and cleaned. Replaced headlight motor diodes, and repaired a defective hazzard switch. Also replaced the ignition switch with one that I had a Fiat key for. One door latch was broken, so replaced both so as to have the same lock cylinder on both doors.
Next came the exterior. It had 90% original paint, although highly oxidized and covered with gold tape stripes. The outer skin of the drivers door had previously been replaced, but had accumlated a large number of small dings and had been very poorly painted. Also had a crunched rear lower valence, and a single tiny rust bubble at the windshield frame. The windshield had been previously replaced and the seal was poorly applied, trapping dirt and therefore, moisture. Removed it, sandblasted, repainted, and resealed, being careful to fully fill the gap with sealer. Straighted out the door and rear valence and resprayed those and the paint chipped rocker panels. Very carefully removed the tape stripes so as not to damage the rest of the paint. Numerous paint chips were scraped of their surface rust, and individually Rustmorted, primed, and painted. Also carefully used a hammer and dolly to "mostly" straighten other small dents in both trunk lids without repainting. Many hours were spent carefully powerbuffing the paint. I figured out the reason that Fiat paint is so smooth is that they don't put enough paint on to build any texture! Yes, I buffed through in two spots, so those areas had to be spotted in. Two steps forward and one step back every inch of the way.I wanted to preserve the original paint as much as possible, tho' in retrospect, a complete respray would have been easier and produced a nicer finished product.

90 HP Fiat working hard to hold off 400 HP Cobra
All of the stainless trim was sandblasted, primed, and painted satin black along with the original satin black and plastic trim. In all there were over 50 pieces removed and painted. I tinted the sidemarker lights black as well.
Exterior modifications include later model Bertone mirrors, a Zender rear wing and front airdam, all throughly prepped for painting in a glossy metallic black to match the body color. I removed the rubber and plastic bumper surrounds and plugged the holes with metal plugs painted body color. The grille was replaced with an early style grille, and the front turn signals are from a '74 X. Single rail bumpers were fabricated from the early dual rail bumpers, painted satin black, and mounted close to the body on collapsed bumper shocks. Rear turn signal lenses are red early style. Targa panel vents are also early style with "bertone" lettered in red to match the Abarth scorpion wheel center caps. The aluminum brake calipers have been polished, and the brakets painted in the same red. All other brake and suspension components were also cleaned and painted. Paint used on everything was PPG Delstar with a hardening agent added. A flex additive was also used on the Zender pieces.
Wheels are the legendary Chromadora Daytonas, media blasted and fully restored, mounted with Yokohama 008rs tires. These are SCCA SpecRacer takeoffs.
Suspension is nearly stock, just cut one coil from the rear springs, and two coils from a set of rear springs mounted in the front. Used KYB GR2 struts were taken from a partscar.

Ferrari running off line trying to escape from Demon Fiat
Engine is original 1500, with .060" milled from the head, with the cam timing corrected and advanced one degree with an adjustable pulley. A '74 intake manifold was port matched to the head and a bored out 32 DMTRA carb used. A '74 dual outlet exhaust manifold was used, along with a 2 1/4" mandrel bent exhaust system and a no-name turbo muffler. Found a FAZA 35-75 cam on Ebay. While it was all apart, I sandblasted the cambox, cam covers, water pump, T-stat housing and painted them silver. Also painted the tranny silver. The exhaust manifold and OEM heat shield were painted in high temp satin black, while the block got a coat of DP90. K&N aircleaner with a baseplate fabricated to fit the carb. And best of all, removed all the zillion hoses, valves, and do-dads related to the bodged '79 smog controls.

StreetX motor...just cleaned up a little
All told, it took about 500 hours over two winters to bring the project to this stage. I drove it 200 miles to get a feel for a street legal X (never having driven a street legal X!), then entered a trackday event at Portland International Raceway. We were seeing 95 MPH in the straights, and outrunning nearly everything in the turns. Except for some fuel contamination causing intermitent carb problems, the car performed wonderfully. Especially the brakes, using the Bendix pads that were on the car, but the black brake dust got my pretty wheels all dirty!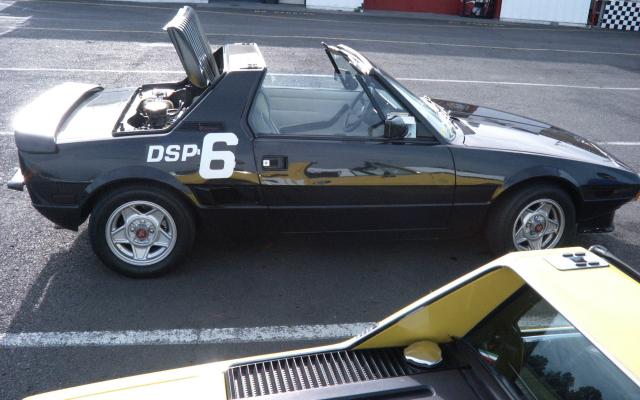 Original paint buffed out reasonably well
My Redwedge RaceX has a number of interesting stories behind it.
How it came to be constructed was kind of a flukey series of events, and how I came to find it for sale is nearly as bizzare.

SCCA autocross-1999
HOW THE CAR CAME TO BE CONSTRUCTED
In spite of the Sportsman Class dirt track body (I prefer to think of it as styled after the Can-Am cars of the '70s), underneath it is a complete X1/9, minus only the outer body panels. Sort of a sheep-in-wolf's clothing, it's nothing more than an X1/9 with the outer body replaced. The car had been a hot streetX, when the previous owner (PO) decided to have it repainted.
He took the car to a commercial sandblasting company to rid it of old paint and bodywork. This was not a good thing, since the sandblasting warped every body panel into oblivion. Fortunately, it was a reputable company with insurance, so the PO received a sizeable cash settlement to pay for acquiring another body, and transferring all the hotrod goodies to it. Instead, the PO took a different path...straight to a new racecar fab shop.
Being a new shop, they not only needed to get some work in, but also needed a car that could showcase their handiwork. Their normal clientel was dirt track racers, who routinely beat the crap out of their racecars. The PO was interested in Solo2, hillclimb, and open trackday events...in other words, he had no plans to rub doorhandles with other racers and therefore was uniquely positioned to maintain a "showpiece" example. So, he negotiated a deal at a hefty discount for the shop to cut off the original body and fabricate a new one out of powdercoated aluminum panels. Also included was 95 feet of rollcage and strut tower re-inforcement.

Stock X...with the body cut off
LIKELY NEVER TO BE DUPLICATED...HERE'S WHY
First, adding 200 lbs of tubing cancels out nearly all the weight saving of the aluminum body. A gutted X can weigh nearly the same. So, no real performance advantage of the fancy body/rollcage. There is improved chassis rigidity, and some degree of aero downforce (look at the profile, the car is one big wing from nose to tail). But overall, a minimal performance gain considering even the discounted cost. There is a big improvement in driver safety, but even that is nearly unnecessary in time trial events.
Second, the body as originally constructed moved the car to A/Mod in Solo2 and D/Sports Racer in hillclimb/roadrace. The car is a hopeless underdog in both classes. No one paying attention to car prep rules would invest so much into building a class dog. But the PO didn't pay attention to the rules.
Third, the normal expense of the body/cage work at $4000 would be far better spent in nearly any other way if the objective is to have a class competitive car. If the objective is to have a wild looking racecar for a price that is low (relative to what other wild looking racecars cost), then the PO suceeded. (And, I must admit, the car does draw alot of interest for it's visual impact, and that's kind of fun.)
Fourth, the resale value of racecars is poor at best, but when you're looking at a class dog, there is nearly no market for such a car. This is where I am a good fit for the car. Because I've been competing since 1971, I no longer have any interest in trophies, points, or championships. Simply, I just wanna GOFASTCHEAP. And since most folks buying a racecar want to "win", this car had no value beyond the value of its components. And in this case, the PO broke the motor, so it wasn't even a turnkey class dog, just a bunch of parts bolted together.

WHAT I'VE DONE TO THE CAR
After I bought the car, I wanted to get it legal for D/Modified, where it is still a hopeless underdog but not as bad as A/M. I changed it from a long slope nose to an X1/9 grille and nose shape, added X1/9 side vents, X1/9 graphics styled from the Fiat-Allis heavy equipment logo, and have constructed a fiberglas reproduction of the X1/9 targa hoop. The D/M class requires that the body have "recognizable features of the original car". Features...plural...as in more than one feature, therefore two features will make it legal. I built the targa hoop a few years ago, but haven't gotten around to installing it. Since its only purpose is to allow running in D/M, I just haven't cared enough about running there to finish it off! Hillclimb events use roadrace GCRs for classing Prepared and Modified Solo2 cars, so it will always be an underdog in D/SR in that venue...not that there's anything wrong with that.
The motor was toast when I bought the car, so swapped in a junkyard 1500 with FAZA 40-80 cam, dual sidedraft Mikunis and a tube header, but not before spending hours removing all the targoop slathered all over the chassis and engine bay (alla dirt track construction standards), and cleaning and painting every component with catalyzed acrylic enamel. No rattle-can spray bombs for me, I wanted bulletproof paint. That motor was supposed to be a temporary installation, but it took a licking and kept on ticking...20 events per season over 5 seasons, occasional forays in excess of 9000 rpm when an axle sheared, flywheel bolts sheared, clutch disk disintegrated, etc. The motor still runs, but the crankend is chewed up after shearing the flywheel bolts off twice. So a new motor with BV head, 42-82 cam, and big compression is in the works.

RaceX motor...therapist says I should get a life
In spite of being pro-built, I have invested 100s of hours into refining and repairing the car. Added a Howe steering gear reduction box, for 2 turn lock-to-lock steering. Also changed the wheel/tire setup from 13x6 and 20x8x13 cantilevers to 13x8 and 20x9.5x13 cantilever tires, and then the attendant changes in spring rate and alignment that required. This combination has increased the steering effort tremendously, which is normally not a problem in most events. One event that it will catch up to you is the EnduroCross...5 minutes of autocross twisties will make a strong man weak. I'm not a strong man, so am pretty drained after a run like that.
Other than that, the only other changes have been cosmetic, polished out several aluminum pieces, repainted all the visible Fiat chassis components, and generally put a lot of energy into making sure the car is always immaculate. Even the trailer is immaculate, epoxy primed, Porsche Guards Red acrylic enamel with catalyst, polished diamond plate aluminum decking, and some cool American Torque-Thrust wheels. I figure if I can't go fast, at least I want to look good.





Hillclimb during Oregon99 Fiat Gathering
HOW I CAME TO BUY THE CAR
This story is an example of fate and destiny. I had another project X before this one, which was to be a lowbuck autocrosser. At the time, I had lost interest in working on cars in general, and really didn't know much about X1/9s, so all I ever did with that car was swap in a 1500. There it sat for years, while I tended to long-deferred homeowner projects. (My house had been neglected for a few years while going through a messy divorce, and then neglected for a few more years while I ran my CP Camaro in every possible event.) But the cost and hassle of running the Camaro motivated me to look for a smaller, lightweight autocrosser. I couldn't afford a Formula Ford, so an X1/9 seemed like a good choice. Being a do-it-yourself type, I naturally figured I should build a raceX instead of buying one. But when I started adding up the cost of beginning at Ground Zero, I realized that it was gonna be expensive. And no Internet in those days to lend a hand, I was strictly on my own, with little X knowledge and no access to knowledge. So after getting that X running, I lost interest, and the car sat for years.
At this point, I stumbled across the RedWedge RaceX, and did so in an unusual way. I was at an antique car swapmeet, been on my feet all day, hot, tired, hungry. Parking was more than a mile away, but after watching several full shuttle buses go past, I decided to hoof it to my car. As I'm hoofing, I spotted this racey looking RedWedge...what the heck is that I wondered. Walk over...and holy shit! That's an X1/9, cloaked in a racecar body. At this point the PO saw my surprise and delight, and knew he had a live one on the hook.
The fact that the PO was even there is bizzare. He was from 140 miles away, had heard there was a swapmeet. He didn't know that it's one of the largest antique car swapmeets on the WestCoast...not the place to sell a broken racecar, and virtually no chance of finding a place to park with racecar in tow within miles of the place. Ignorance must be bliss, because he not only hauled it all that way, he also BS'ed his way past Security Guards, and actually found a place to park truck/trailer in the spectator area. So the chances of him overcoming all those obstacles was a minor miracle. Adding to that, the chances of me happening to walk by is another minor miracle. Further, I just happened to have a motor ready to bolt in, and even had acquired a tiltbed trailer that was custom built for hauling an X1/9. And there I was, looking at a fabulous X1/9 racecar that only needed a motor and a trailer, and at a price that was way less that the cost of the goodies on it, never minding the cost of the fancy body. It was so obviously my destiny, that the deal was consumated within 30 minutes...and I am one to normally ponder any purchase for at least a few days.
So we made the deal, got a bite to eat, and he followed me to my house. An aside here: I was collecting American Torque-Thrust wheels at the time, so that was my mission at the swapmeet. On arriving home, my ladyfriend's first question was to ask if I found any deals on wheels. I responded, "Aye-yup, found four great wheels...and they came attached to a racecar!"
Mike Mittelstead, 2000
---