Hi, I own a "Fiat 128" and I want to invest in a coilover set in the near future!
For two reasons: smother riding and to put back wheels at the ground when accelerating. More info
here
I saw that in Europe the company D2 Racing Sport has some very decent coilovers for x1/9 and I start googling for pictures to see if they are the same as 128.
I have these two pics as a reference
rear from x1/9: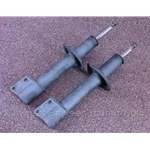 Strut PAIR Rear - KYB Nitro Gas (Fiat Bertone X1/9 1980-88 + 1973-79) - U8

www.midwest-bayless.com
and front from 128 here:
Classic Performance Parts - FIAT 128 127 AUTOBIANCHI A112 ABARTH ZASTAVA 101 YUGO FRONT COILOVERS KIT
classicperformance-parts.com
So they look the same,
Does anyone know if they are the same?
The goal is (if they are the same) to contact to D2 and make same minor adjustments
for example to make sure that these they will fit perfect:
https://classicperformance-parts.co...s-kit-shock-top-mount-with-spherical-bearing/
(there is no need to reinvent the wheel and let d2 try to make top mounts if they already exists)
I also have no idea what to do for the rear, that I also will need.
**
to be honest I have found this:
Been told I can fit late model rear struts in the front of my 75 128.If doable, what mods do I need to perform?..... 1)can I fit the 128 top base mount into this late struts and then just mount them? 2)or do I have to keep the late X19 mounts and then redrill the strut tower base to accept the...
but most of the comments are like: do not try this at home!
X19 rear strut isn't the best choice at all... a FWD strut relies on quite stiff extension damping to prevent the front rising under acceleration... I would doubt that x19 inserts (same front and rear) are designed for a stiff extension setting...
so I suppose that I just have to take the "mounting part" and put it at a coilover that it was designed for front wheels?
Last edited: